FACTOR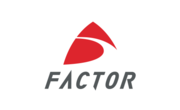 In 2007 Factor Bikes was born in an unassuming industrial unit in Norfolk, England. Originally an offshoot of bf1systems, a leading engineering firm dedicated to working at the highest levels of design with some of the fastest, most prestigious brands in the world including Ferrari, Aston Martin, Lamborghini, Maserati and many F1, Moto GP and WRC teams.

2009 saw our first foray into the cycling world with the revolutionary FACTOR001: its unique take on the road racing bicycle was marvelled for its beauty and unique sophistication being, as it was, years ahead of its time. As we have continued to grow and evolve, that core commitment has not wavered: our engineering team continually pushes the envelope of what is possible.


More pioneering development ensued and in 2012, Factor launched a collaboration with Aston Martin - the Factor ONE-77 £25k Hyper Bike.

In 2013, we unveiled our first production bike, the innovatively aerodynamic Vis Vires that utterly eschewed the UCI rulebook. Combining all that had come before in a truly stunning package, it included a bf1systems-developed power meter, the Twin Vane split down tube and split external 'Dual Bayonet' fork. This created a whole new breed of Superbike; one that combined aerodynamics, total system integration and data in one mould-breaking package to secure unanimous critical acclaim from both the world's cycling press and prestigious design awards.
There are currently no products from FACTOR in our site.
Please
Contact Us
for details of this range of products.
If you can't find the items you are looking for within our main site, you should be able to view the complete range from FACTOR by visiting their own website: (although please be aware that not all products may be available within the UK)
VISIT
FACTOR Website